During the 2019 Days of Holocaust Remembrance, Deacon Andrew J. De Silva, a seminarian who completed his fourth-year of theology studies at the Immaculate Conception Seminary at Seton Hall University, reflected on his Fellowships at Auschwitz for the Study of Professional Ethics (FASPE). The two-week program challenges its participants to reflect on the role of their professions in bringing about the events of the Holocaust.
Now in its tenth year of operation, FASPE looks at how and why professionals across five disciplines—business, journalism, law, medicine, and religion—abandoned their ethical guideposts during the onset of the Holocaust. Further, the program frames those questions within a contemporary study of ethical issues.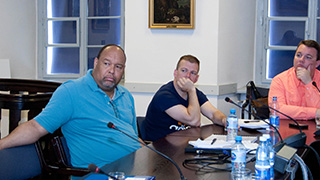 In 2018, only 63 fellows were chosen to participate in the program across the United States and abroad. Deacon De Silva, who was the first student from Seton Hall to attend, along with twelve other seminary fellows traveled and collaborated closely with the medical professionals on the trip. DeSilva says he was impressed with the diverse group of fellows FASPE attracts and that he "made good friends on the trip," many with whom he still stays in touch. "The combination of medical science and the religion is such an important collaboration," says De Silva. "It is so powerful having caretakers of the body and those of the soul together, discussing ethical responsibility." He added, "Humanity has been responsible for much good but also incredible evil. It is our duty to learn from the past in a way that ensures we never repeat it."
The Program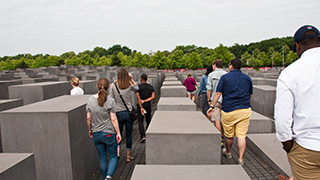 The program explores how Hitler and the Nazis swayed individuals under the pretext of professionalism. During his seminars, De Silva studied and discussed different ways religious leaders are said to have helped facilitate the events of the Holocaust. These actions included the controversial signing of an accord between the Nazi state and the Vatican as well as certain religious leaders in Germany amending the New Testament to get rid of Jewish words or phrases.
One of the most powerful moments for De Silva was a trip to the summer house where a group of high-ranking Nazi officials planned the "Final Solution," now often referred to as the Wannsee Conference. The Fellows sat inside the house discussing the question "What is Evil?" and how their professions could have acted differently. For De Silva, it reinforced the power of place. "My faith allows me to define and study evil; however, it is another thing to see the effects of evil firsthand and to sit in its home," said De Silva.
Through this experience, De Silva says he developed a greater understanding of the influence his profession holds and the weight it carries in society. As part of…Read More – EXCELLENT program insights>>