Dr. Henry Joseph Zeiter died in his Lodi, California, home on Sunday, December 20, 2020. A beloved husband, father, and grandfather, a world-renowned ophthalmologist, and a generous philanthropist, he was also a faithful friend of Thomas Aquinas College, having served for 34 years on its Board of Governors.
Henry was born in Serhel, Lebanon, on July 31, 1934, to Yousef ( Joseph) and Budwyeh (Antoinette) Zeiter and was baptized a Maronite Catholic in the village church. The youngest of seven, he attended a Christian Brothers primary school, where he learned French (his second language after Arabic). At 14, he and his parents moved to Caracas, Venezuela, to live near family, and there he added Spanish to his repertoire.
At 16, his family relocated to Windsor, Ontario, where he completed secondary school and learned English. (Later as an adult he became fluent in his fifth language, Italian.) He attended Assumption College in Windsor, where he studied philosophy and literature as well as the natural sciences, which led him into the field of medicine at the University of Western Ontario Medical School. He did his internship and residency in ophthalmology at Harper Hospital and the Kresge Eye Institute in Detroit, Michigan.
It was in Detroit that Dr. Zeiter met the love of his life, Carol Joyce Schooff, whom he married eight months later. After Dr. Zeiter completed his residency, the family relocated to Stockton, California, where he established a downtown surgical practice. Ophthalmologists from around the country came to learn his techniques. Over the next 40 years, he would perform more than 30,000 operations for cataracts, glaucoma, corneal transplants, and other disorders of the eye.
For more than 15 years, Dr. Zeiter served as a visiting surgeon with Orbis Eye Missions in the Far East, performing eye surgeries and training local surgeons. In Bulgaria and in his native Lebanon, he helped to set up a surgical demonstration project through the American University in Beirut. He also established a charitable association to help provide medical supplies and surgeries for indigent patients.
"I've never seen a U-Haul following a hearse," Dr. Zeiter once quipped. "It's OK to be a capitalist, but only so long as you're a philanthropist."
Dr. Zeiter was also a passionate lover of music, travel, and philosophy.
"I specialized in ophthalmology because it was limited to only one organ in the human body," he said. "I knew I could master it quickly and then spend the rest of the time with philosophy. I read constantly."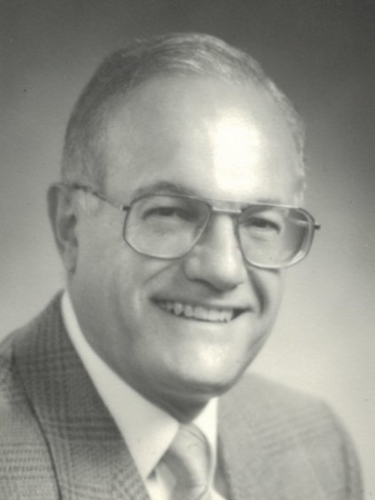 Indeed, it was his love of the liberal arts that brought Dr. Zeiter to Thomas Aquinas College. In his living room he had a set of Great Books that came with the Encyclopedia Britannica, and he often said that if only there were a college with a Great Books curriculum, it would provide a marvelous education.
When his daughter Suzie (Zeiter '87) Andres was considering colleges and received a letter from Tom Susanka, director of admissions at the time, explaining the program at Thomas Aquinas College, both father and daughter were thrilled.
When Dr. Zeiter and Suzie visited the California campus in 1983, she found her future alma mater, and he found an institution he would support and promote for the rest of his life.
"Our initial visit yielded great fruits and friendships during an unforgettable Mardi Gras weekend," Suzie recalls. "Students in the men's dorm where my dad stayed still remember their night staying up with him till 3:00 a.m., discussing everything under the sun and being entertained by some of his many amazing stories. Our visit didn't conclude until my dad pressed a check — the first of many! — into Ron McArthur's hands. Dad had been so impressed by the intense Catholicity of the students, which reminded him of his own college days, that a lifelong relationship with the founders, faculty, and student body began."
In 1986 Dr. Zeiter was elected to the College's Board of Governors, where he served as chairman of the Committee on Academic Affairs.
Over the years, he and Mrs. Zeiter regularly attended the Great Books Summer Seminars, often bringing friends with them. Members of the President's Council and the St. Thérèse Legacy Society, the couple also established the Carol & Henry Zeiter Endowment for Financial Aid. In 2010 — in honor of their decades of generosity — they were inducted into the College's Order of St. Albert.
Among his many other professional and fraternal memberships, Dr. Zeiter was a Discalced Carmelite Secular and a Knight of the Holy Sepulchre.
He is survived by Carol, their 4 children, 13 grandchildren, and a great-granddaughter. He was blessed to receive the last sacraments and say goodbye to his many beloved family members during his final days. He took his last breath with Carol and Suzie beside him, holding his hand and praying the Divine Mercy Chaplet.
"A genuine Renaissance man, Henry was a lover of great music, great books, and the Catholic Church who served with great distinction on the College's board for over 34 years," says Thomas Aquinas College President Michael F. McLean. "Please pray for the repose of Henry's soul and for consolation for his wife, Carol, and for all the members of his family."