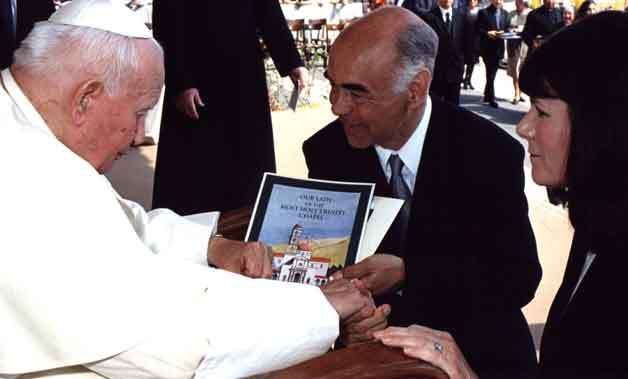 Thomas E. Dillon, Ph.D., president of the only four-year, fully integrated Catholic Great Books program in the nation, Thomas Aquinas College in Santa Paula, Calif., was killed Wednesday, April 15, in a solo car crash while driving with his wife, Terri, in Ireland, en route to the International Council of Universities of St. Thomas Aquinas in Limerick.
Dr. Dillon, 62, had served as president of the college for 18 years, raising more than $100 million and building out much of the campus, including its spectacular Chapel—Our Lady of the Most Holy Rosary—which was dedicated last month.  He personally built a relationship with a myriad of Catholic cardinals and bishops nationally and internationally, with top-ranking Catholic business leaders, and with both Pope John Paul II, with whom he and his wife met twice and who blessed the college chapel plans, and Pope Benedict XVI, who blessed the chapel cornerstone.
"Dr. Dillon was an outstanding leader and president of Thomas Aquinas College," says Michael F. McLean, Ph.D., dean of the college. "He managed the various duties of the presidency very well. He was excellent with the benefactors and friends of the college, remained close to the students, and maintained cordial and collegial relations with his colleagues on the faculty. He taught a class each year throughout his tenure as president and remained active in faculty discussions about the academic and residential life of the college, admissions policy and accreditation.
"The loss of Dr. Dillon will be felt very deeply at Thomas Aquinas College," continues Dr. McLean. "Dr. Dillon was exemplary in his dedication to Catholic liberal education, to the academic program of the college and to its commitment to the Magisterium of the Catholic church."
Catholic business leaders and others point to Dr. Dillon's relentless commitment to truth and perseverance in matters of eternal worth.
"Ever the teacher, Tom had an unwavering commitment to serving and defending the truth in charity," notes Catholic Business Journal editor and publisher Karen Walker, who was among Dr. Dillon's first students at the college. "The president also was blessed with a quick wit, a ready sense of humor and a remarkable ability to connect with people in a warm, genuine and personable way.  He was very accessible and down-to-earth, yet at the same time perceptive and profoundly formed by the Catholic faith, the writings of the best philosophers and the saints.  Tom Dillon will be greatly missed, yet the educational foundation he helped to build will continue to impact culture for years to come."
Fred Ruopp, founder and CEO of Chelsea Management Company, and named one of the Top 20 value-oriented managers in the U.S., according to Kiplinger's, is also a columnist for the Catholic Business Journal.
"Tom and I have been friends for more than 30 years," Mr. Ruopp says. "I've been on the board of the College for more than 30 years.  When I was chair of the board, Tom Dillon was dean. The founding president Dr. Ron McArthur retired and after an internal search was made, Tom was elected president.  He has exceeded all our expectations.  Tom had every fine personal quality, such as integrity and perseverance, that one could look for.  In addition to all of the internal duties of the college which he directed, because of his openness and love of people, Tom turned out to be a great fundraiser for the college, raising more than $100 million while president. We will really miss him.  It's the end of an era, but in God's plan, it will be the start of a new era."
The founder of a Napa Valley winery concurs.
"My wife and I became best friends with Tom and Terri over the years, " says James L. Barrett, founder of Chateau Montelena Winery and a Thomas Aquinas College Board of Governors member for more than 13 years. "I admired and I respected Tom greatly.  The college chapel, Our Lady of the Most Holy Trinity, never would have been built without Tom and Terri Dillon.  It was incredible what they did!
"It wasn't just the chapel," Mr. Barrett continues. "Being president for nearly 20 years, Tom was a driving force in building the physical campus as well as in gaining international recognition and respect for the high caliber of Catholic education the College provides.  When I first visited, it was operating in what looked like a bunch of quantum huts!  Now the campus has been transformed into a beautiful oasis with the new chapel as the cornerstone of campus beauty and life.
"As for the caliber of the college, Tom has been absolutely inspirational.  Tom and Terri traveled all over the country and many times to Rome and Europe meeting with church leadership and popes.  Now the Catholic leadership and hierarchy, including cardinals and bishops all over the world, recognize Thomas Aquinas College as the pre-eminent Catholic college!"
Mr. Barrett speaks frankly from a business perspective as well.
"Being a businessman," says Mr. Barrett candidly, "I like to see a lot of bang for my buck. I could talk for a long time about how much good I see coming from that college, including an abundant harvest of alumni entering the priesthood and religious life—more so than most, if not all, Catholic institutions.
"Put it this way," continues the owner of several award-winning wines.  "My first donation to the College almost 20 years ago was in response to an ad in National Review.  I sent in $100 and got a call from Mike McLean who invited me to come and see the college.  My wife and I went down to visit…  My next donation was $1,000.  And it grew from there. We became totally committed. Over the years we've given a substantial amount to the college and we believe we've received more back from the college that we've given!  Tom's leadership has been an integral part of the growth of Thomas Aquinas College.  His leadership has been inspirational. I consider what he's done for the Catholic Church to be extraordinary."
Dr. Jeffrey O. Nelson, president of St. Thomas More College in Merrimack, New Hampshire says: "Tom will be remembered as a builder of the Church in America through his tireless labors to secure Thomas Aquinas College as a permanent institution of academic excellence and fidelity. He was a generous counselor to many of his peers in Catholic higher education. He was a champion of the revival of small-scale, Socratic liberal arts education, and was a gifted teacher and administrator. Our prayers are with his wife, Terri, his children, their spouses, and his grandchildren."
Patrick J. Reilly, president of the Cardinal Newman Society notes that: "Dr. Dillon was one of the 'founding fathers' of the new wave of authentic Catholic higher education in the United States. What he achieved at Thomas Aquinas College is truly remarkable, culminating with last month's consecration of Our Lady of the Most Holy Trinity Chapel, now the magnificent centerpiece of the college's campus and a clear indication of Dr. Dillon's primary motivation as an educator and college leader.
"Under Dr. Dillon's leadership," Dr. Reilly continues, "Thomas Aquinas College rose to the top of national college rankings. Dr. Dillon courageously rejected secularization and popular trends that have contributed to the decline of American higher education. Instead, the college's rigorous Great Books program has been admired by educators worldwide."
Reilly describes Dillon as "kind, gracious, intelligent, determined" and "irrepressibly proud" of Thomas Aquinas College students, faculty and staff.
He said that Dillon's commitment to Catholic teaching and practice were "essential" to Cardinal Newman's Society's decision to recommend the college as a model Catholic institution in its book The Newman Guide to Choosing a Catholic College.
"May God grant Thomas Aquinas College a new patron in His eternal care," Reilly sums up.
Fr. Isaiah Teichert, Cam.O.S.B., a '78 alumnus and a priest at New Camaldoli Hermitage in Big Sur, CA, succinctly observes: "Pope Benedict cautioned us to have neither truth without love, nor love without truth. Dr. Dillon had an abundance of both."
Another priest alumnus, Fr. Joseph O'Hara, '92, in a note to alumni priests, recalls Dr. Dillon's special encouragement to alumni priests and religious.  "…No doubt each of us are praying and even offering the Holy Sacrifice of Mass for the repose of his soul and for the consolation of Terri and the family," wrote Fr. O'Hara. "As you know firsthand, the Dillons have a great respect for us priests, and have supported each of our vocations with their prayers, encouragement and guidance. Their deep devotion is shown in their commitment to go to each Thomas Aquinas College [alumni] ordination during Dr. Dillon's service as president of the College. We priests, who have had the great fortune of receiving their generous care, have a dear place in the hearts of Tom and Terri Dillon….We have the great opportunity of being together [at Dr. Dillon's funeral] in calling down the Eucharistic Lord, sacrificing Himself upon the newly consecrated Altar of the College Chapel, asking Him to hold Tom and Terri in His merciful and consoling hands."
"Ultimately, Tom's death is a shock and a wake-up call," reflects Walker. "All of our work, all of business acumen, all that we are belongs to God — no matter what industry we move in, no matter what corporate position we hold, no matter how seemingly great or insignificant our work.  The point of life is to surrender our will to His, to never forget at what cost our eternal salvation has been purchased, and to be at our post; at the post God invites us to embrace. Tom Dillon, as a teacher, husband, father, dean and long-serving college president, exemplified such a life."
Dr. Dillon is survived by his wife, Terri, four children and 15 grandchildren.  In the new college chapel, the Rosary is slated for Thursday, April 23, at 7:30 pm and, following an all-night vigil, the funeral will be on Friday, April 24, at 10:00 am.
For more information, see the college website at www.thomasaquinas.edu.